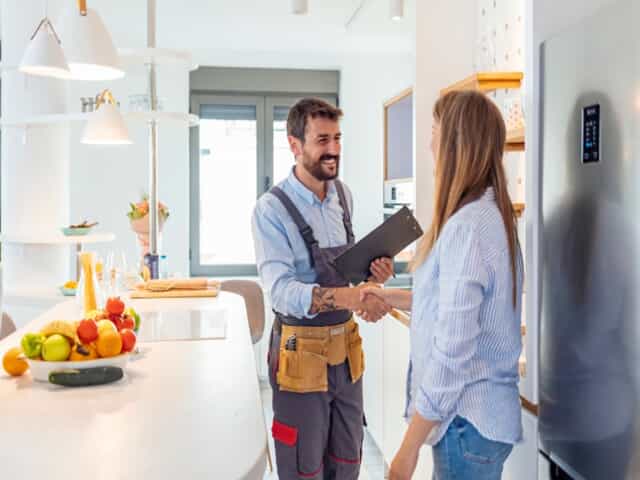 You Can Trust Our Experienced Team of Professionals with Any of Your HVAC, Plumbing, or Electrical Needs
Every Cocoa heating & air tech at Dial Duron Service Co. is thoroughly licensed and insured because you should enjoy the most excellent service we can provide. We'll work relentlessly to achieve your comfort needs through outstanding repairs, regardless of your HVAC system's make or model.
Prior to us starting work, you'll be given a free estimate for the cost of any required repairs.
Once we've found the malfunction, Dial Duron Service Co. will provide useful advice on the best steps from here.
It only takes a few hours to wrap up the majority of air conditioning repairs.
Dial Duron Service Co. will stay in contact throughout our work, and will inform you if something requires your attention.
We also offer exceptional air conditioning replacement if you decide you need to install a new system instead.
Residents & Businesses in Cocoa, FL Can Count on Dial Duron Service Co.
Our name for such great service has been in the works for years, and includes all heating, ventilation and air conditioning services. If you are looking for repairs, you'll feel good knowing about our 100% satisfaction guarantee.* If there's anything we've done that you're not satisfied with, Dial Duron Service Co. will work our hardest to correct it.
Our Complete Comfort Club
Consider enrolling in our Complete Comfort Club for the greatest air conditioning service. This useful service agreement keeps your warranty valid and offers many perks, like priority service and discounts on repairs.
Our HVAC Repairs in Cocoa Are Backed by a Satisfaction Guarantee
If there's a problem with your heat pump or furnace, don't hesitate to call a professional at Dial Duron Service Co.! Heating equipment that's erratic can make it much trickier to stay comfortable at home or work.
Dial Duron Service Co. is here to support you with outstanding heat pump repair or furnace repair. All our techs are completely licensed and insured to exceed your comfort needs regardless of the brand.
A Step-By-Step Approach to Solving Your Heating & Cooling Problems in Cocoa, FL
Dial Duron Service Co. will find the problem quickly and give you a free estimate for how much any required service will cost. We'll also offer ideas for keeping your heat pump or furnace in great shape.
The majority of heat pump or furnace repairs typically take only several hours to finish. If something changes, Dial Duron Service Co. will let you know immediately. We also offer the best, affordable heat pump replacement and furnace replacement if it isn't a wise move to repair your heating equipment.
For years, our quality heating and cooling service has received a standing for being competitively priced and upheld by a 100% satisfaction guarantee.*
If you're not pleased with the way Dial Duron Service Co. has taken care of things, contact us immediately. Your satisfaction guarantee means we won't rest until we've corrected things.
Contact our Cocoa electricians, plumbers, & HVAC techs for an appointment today!
Our Plumbers in Cocoa Are Prepared to Provide Support for Anything You Need
It's frequently due to a dire situation that you've had to call for our plumbers in Cocoa. That's not a problem, because your comfort is our number one priority at Dial Duron Service Co.. Regardless of the time, contact our helpful support staff at (321) 341-3625 to set an appointment now.
Plumbing Services in Cocoa , Florida
Our Cocoa plumbers have the skills they need to tackle all residential and commercial plumbing issues.
We're the best equipped to assist you if you need water heater repair, drain cleaning or anything else.
It's essential to get the job done correctly the first time. That form of assistance gets started with a free estimate for necessary repairs. Once the job starts, the Cocoa plumbing pros at Dial Duron Service Co. will keep you up-to-date to make sure you're informed what's going on.
You'll also have our 100% satisfaction guarantee.* If something's not right, let us know. You can be sure that Dial Duron Service Co. will do everything we can to make it right.
7 Signs Your Water Heater Needs Repair:
Unusually high water bills.
Rusty, discolored, or smelly water coming from the tap.
No hot water at all.
Leaking around the base of the unit.
Loud noises like banging, popping or rumbling coming from the tank.
The pilot light frequently goes out unexpectedly.
When turned on, the water temperature takes a long time to heat up.
Contact us at (321) 341-3625 to get your Cocoa plumbing appointment right away.
"They answered the phone on the first ring - by someone actually in the office, not at a call center. I explained my issue - we discussed options. I was advised that they could have someone at my home in under 24 hours."

- Aaron O.
More Reviews
Contact Dial Duron Service Co. Today
Servicing All Brands
Our team is here to answer your questions. Contact us today at (321) 341-3625 or complete the form below.